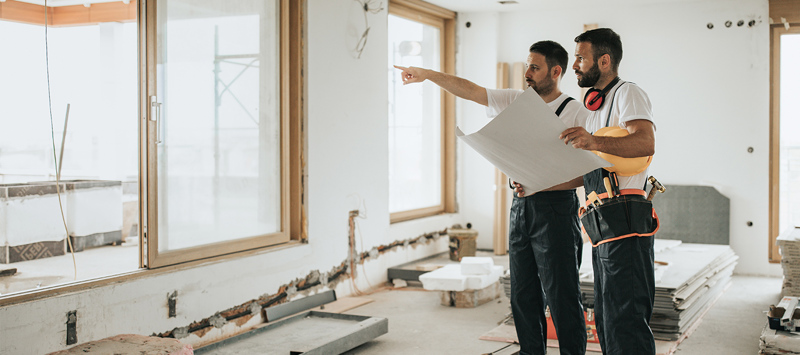 Eligible Clients and Projects
Who buys builders risk insurance?
Almost every client with a financial interest in a completed construction project is eligible to purchase a builders risk insurance policy. This means individuals or entities — including contractors, business owners, homeowners, property investors and financial institutions — can be great prospects for builders risk insurance.
The Builders Risk Plan insured by Zurich gives you the option to purchase the policy in the name of the owner or builder (but not the mortgagee / bank). Contractors and other parties of interest may also be protected under an additional named insured clause.
Should your client choose to add the builder or owner as an additional named insured, be sure a waiver to subrogate is clearly outlined in the construction contract or agreement. This will protect the interest of additional named insureds should property damages occur during the course of construction.
Residential Projects
Builders risk insurance for residential properties is crucial, whether it's course of construction coverage for building a new one-to-four-family home or remodeling an existing structure. Eligible residential clients may include:
Homeowners
House flippers and investors
Landlords
Real estate agents
Residential contractors
Subcontractors
Commercial Projects
Contractors and owners of commercial property with construction, renovation or installation projects are also great candidates for builders risk insurance and may include:
Commercial contractors
Commercial property owners
Municipalities (local governments, school districts)
Real estate agents
Retail tenants who are expanding or remodeling a leased space
Subcontractors
What types of projects does builders risk insurance cover?
Whether residential or commercial, the US Assure Builders Risk Plan insured by Zurich has a broad appetite for a variety of project types valued up to $75 million:
New Construction
This includes any new building constructed from the ground up, whether residential (home, apartment / condominium, duplex) or commercial (office building, restaurant, retail store).
Remodeling
Remodeling involves structural and functional changes to an existing space beyond an installation. In a residential property, this could include a kitchen renovation or bathroom upgrade. Common commercial remodels may include a business expanding into an adjacent tenant space or updating the interior to a more modern look.
Installation
These projects involve installing a single fixture or feature, such as new cabinets or flooring in a residential property, or an awning or signage for a commercial property. An installation implies a more limited scope compared to a complete remodel.