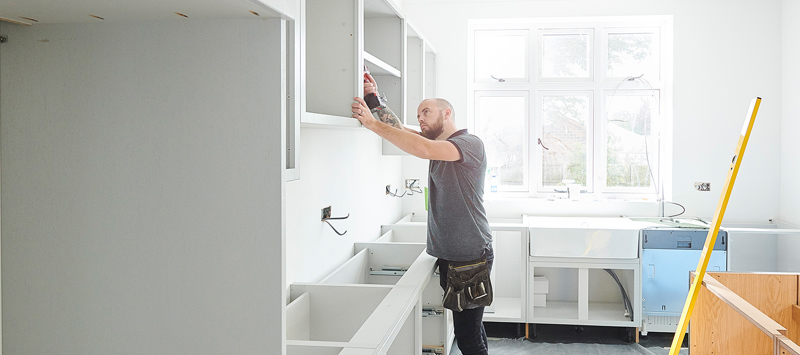 Home Remodeling Insurance
Overview
For many clients, a home remodel represents a significant investment – second only to the purchase of their house. However, many homeowners and contractors mistakenly assume that an existing homeowners policy will provide coverage for the full scope of their renovation plans.
While residential policies differ from carrier to carrier and vary depending on coverage endorsements and exclusions, standard homeowners and home remodeling insurance are each designed for different exposures. If any damage is ultimately caused by a renovation — no matter how small — the loss may not be covered. That's where remodeling builders risk insurance can fill the gap in coverage, giving your clients peace of mind should a loss occur from a reliable provider known for its superior claims handling.
FAQs
What is home remodeling insurance?
Also known as builders risk insurance, coverage for home remodeling is designed to cover residential structures under construction, whether due to renovation, expansion or remodeling.

Like standard homeowners insurance, home remodeling coverage protects against exposures such as fire, storm damage, burst pipes, theft and other covered risks. However, the two policies have very distinct purposes. Builders risk insurance also includes special coverages that are unique to construction projects. This may include protection against damage, theft and vandalism of building materials and supplies whether they're stored at the home or in transit to the property; and other construction-related exposures.
What isn't covered by home remodeling insurance?
Home remodeling insurance has many of the same policy exclusions as standard home insurance, including damage from acts of terrorism or war, earthquakes, pests, flooding, and normal wear and tear.
Project Examples
Basic Remodel:

 changes to interior, e.g., replacement of bathroom fixtures, kitchen cabinets and flooring

Minor Structural:

 modifications to interior and exterior, e.g., doors, windows, roof replacement and ground floor additions

Major Structural:

 repair, replacement or removal of load-bearing walls or foundation of stories, stairways and elevators

Ineligible:

 Historical homes (projects involving the historic registry or that will be applying for historical status during renovation)
Highlights
Quote and issue most policies and obtain proof of coverage the same day
Can be written in the name of the owner or contractor
Option to insure the renovation value only or include coverage for the existing structure
Six-, nine- or 12-month policy terms; extensions available with underwriting approval; the 12-month policy term for remodeling policies with existing structure included and valued under $50,000 is not available
Coverage for theft of building materials or vandalism
Option to purchase higher sub-limits and additional coverage, including endorsements for green building, contract change orders and many more
Occupancy for a single-family dwelling allowed if the building is being remodeled
Occupancy for two, three or four-family dwellings when less than 50% is leased or rented
Improvements or renovations must represent at least 20% of the existing structure value
Direct bill, and premium payment installment options for policies over $500
A

separate premises liability policy

 can be secured for the legal property owner
Availability
Nationwide on an admitted basis