Builders Risk Insurance: 3 Considerations When Insuring Frame Construction
Builders Risk Insurance: 3 Considerations When Insuring Frame Construction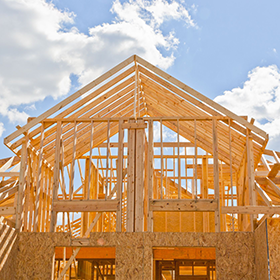 When you hear frame construction, what comes to mind?
Beyond the types of developments using this building technique, you probably think about how challenging it is to insure.
If you've ever tried to secure coverage for high-value frame projects, you probably know it can be difficult to find a carrier, especially one with an admitted backing and financially stable reputation.
However, there's a little more weight off your shoulders when you have access to the Builders Risk Plan insured by Zurich because we can help you insure the risk. Let's discuss three frame construction considerations for agents securing coverage backed by Zurich.
1. Which projects are eligible
The Builders Risk Plan insured by Zurich can insure new construction, remodeling and installation projects valued up to 75 million dollars. However, this limit is applicable to superior construction.
Frame construction is much more vulnerable to exposures. So, to ensure that we can offer coverage for these risk-prone structures, Zurich's appetite for frame is different.
For a single structure, we can consider projects valued up to 25 million dollars. That's 25 million "all in," which means all values are included up to that limit.
So, if your policy is for a $25 million structure, but you want to add soft costs, business income and more on top of it, that wouldn't be eligible. Zurich can cover single structure frame projects up to $25 million, provided that includes all exposed values at the project site.
For multiple structures, that same "all in" condition applies, but the limit is extended to $35 million.
2. Underwriting will need additional information when securing a quote
A frame project's eligibility is contingent on a number of factors, and our experienced underwriters have to handle each submission uniquely. The underwriting process is comprehensive because Zurich wants to be a long-term viable market for these risks.
Here are some things they'll be looking for in your application:
Is the project located in a high protection class?
Is it located in a catastrophe-prone area where high winds, wild fires or tornadoes are common?
Is the project over $10 million?
Will it take more than 2 years to complete?
How many projects of this value and size has the builder built?
What measures are in place for site security?
Is there any occupancy prior to completion?
Will temporary heat sources be used, such as in areas where the weather is extremely cold?
If multiple structures will be built: what's the value and construction schedule per building and the distance between them? The plot plan and cost breakdown may come into play as well.
While most of this information is captured within our online application, the more you can provide up front, the faster you may receive a quote.
3. How to reduce risks at the job site
Once site work begins, your client's project is immediately exposed to a number of risks. While they can rely on the "A" rated, comprehensive coverage offered by the Builders Risk Plan insured by Zurich after a loss, there are steps they can take to prevent common hazards.
Fire is possibly the greatest threat to frame construction projects. In fact, once a fire begins in a wood frame structure, it spreads rapidly and can easily become a total loss. With all the heat sources, sparks and combustible materials at a job site, failing to take proper precautions can spell disaster for your clients.
As their trusted counselor, you can educate them on some basic risk mitigation tips, including:
Trash and other flammable items such as paper, scrap lumber, debris and sawdust should be removed from the job site daily.
Flammable liquids such as paint, thinners, stains and gasoline, as well as oil rags should be properly stored in a specially designed container to avoid fumes escaping and causing spontaneous combustion.
Temporary electrical power should be managed and inspected. If it appears damaged or malfunctions, replace it immediately.
Any temporary lighting should be properly guarded and should not be in contact with any combustible material.
Portable heaters should be secured a safe distance away from anything flammable.
Smoking should be prohibited.
Site security should be installed or hired to prevent arson and serve as an early warning signal should a fire occur.
While you can't be there to stop disasters from happening, you can provide the knowledge to help clients be prepared and protect their investments.
The next time a frame project comes across your desk, you'll be ready to secure the coverage your clients need.
This is intended as a general description of certain types of insurance and services available to qualified customers. Any description of policy provisions is meant to give a broad overview of coverages and does not revise or amend a policy. Refer to the policy coverage form for a complete representation of the scope of coverage, terms, conditions, exclusions and more. The policy is the contract that specifically and fully describes your coverage. Some products may not be available in all states and may only be offered on a non-admitted basis. Product availability is subject to change.
How do competitors stack up to Zurich?
Get this checklist to compare clients' construction coverage with the Builders Risk Plan insured by Zurich.
Download now