Builders Risk Insurance: 3 Top Loss Trends and What Agents Can Do
3 Top Loss Trends and What Agents Can Do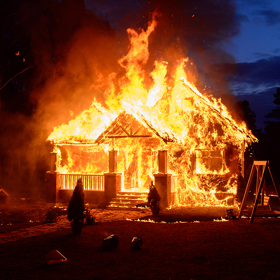 You know insurance is all about preparing for the unexpected. In this article, we'll discuss the three most common causes of course of construction loss and give you tips to help clients protect their property.
As a trusted insurance counselor, you help clients avoid costly losses. And with some added insight about top construction loss trends, you can provide even more tailored support and loss prevention tips too.
Let's dive into the three claims we see most often for builders risk insurance, and discuss what you can do to help mitigate the risk.
Loss trend #1: theft.
Theft claims happen all the time. When construction materials are dropped off at the job site, they're often left out when everyone leaves at the end of the day. Thieves then break into construction sites overnight, stealing accessible materials and equipment. HVAC units are especially sought out, given their higher price point and portability. While the Builders Risk Plan insured by Zurich does include theft as a covered peril, your clients can reduce their risk.
But, what can you do?
First, consider job site security.
Whether your client is the contractor or property owner, there are several best practices that can be easily deployed for a low cost. For example, material and equipment should not be left unattended and / or unsecured, if possible. They should be stored in a secured building. Lights, fencing and/or cameras can also be installed to mitigate theft. On top of that, material and equipment deliveries should coincide with the installation schedule to reduce exposure. And with HVAC units, clients should install a locked cage around the compressor to make it more difficult to remove from the property.
This information and more can be found in Zurich's job site security report.
For added peace of mind, introduce your client to the Zurich Builders Risk Reward Program. It's available for Zurich builders risk insureds and can be effective in deterring criminal activity at construction sites. Participating is as simple as requesting a free supply and posting the weather-resistant signs and/or decals at the construction site. For people who witness criminal activity at a covered construction site and provide law enforcement with information that later leads to the arrest and conviction of the person(s) responsible, the Builders Risk Reward Program provides a cash reward ranging from $250 up to $25,000, depending on the seriousness of the crime and the extent of the property damage.
Loss trend #2: water damage.
Whether it's due to water penetration from gaps or openings in the structure or simply that the plumbing fixtures weren't installed correctly, big losses often surround water damage disasters.
But, what can you do?
First, if your client is building a commercial project, consider endorsing their Zurich builders risk policy with our rain, snow, ice or sleet coverage.
If your client is securing a remodeling policy, it's in your best interest to determine the property condition up front. During claims review, the original state of the structure will come into consideration and any previous damage will not be covered. If you can't visit the location of the project, ask your client to send recent photos of the front and back of the structure. If this isn't doable, check the listing of the house on Zillow or RedFin. While these sites don't always have the most up-to-date images, it could give you a better idea of the risk you're representing.
If there is a tarp on the roof, or you can tell there are openings in the structure from past damage, wood rot, etc., be sure to indicate this on the builders risk application. Underwriting will then decide whether the structure is eligible.
Even if it's a new construction project or an existing structure in excellent shape, remind your clients of the losses that can occur simply due to plumbing fixtures that are installed incorrectly, windows left open, or mishandled project schedules. Your clients should check for leaks after plumbing connections are in place before the plumbers leave the site, double check all windows are closed, and plan projects involving the roof so that the project isn't left vulnerable to the elements.
Loss trend #3: fire.
While our standard Zurich builders risk policy includes protection for fire, eligibility depends on certain conditions.
Let's say there was fire damage to the structure before the policy started. Or, a fire occurs and the insured immediately starts the repairs, disturbing the project site before the claims department can assess the damage. Or perhaps, a spontaneous fire breaks out due to the improper storage of leftover stain rags and roofing materials.
What can you do?
Before securing the policy, request an inspection or perform an internet search of the insured location to determine the condition of the structure. If there is pre-existing fire damage that has not been repaired, we would likely not entertain that risk. However, if the fire was minor with only smoke damage and no damage to the structure, we might be able to underwrite it.
This is another instance when those photos of the inside, outside and roof of the structure would be necessary. Your client may also need to provide an engineering report to confirm structural integrity and the building's condition.
If repairs to a fire on the job site are made before Claims can inspect it, it may impede the investigation. According to the "Duties in the Event of a Loss" within the coverage form, your client should take reasonable steps to prevent further damages to the property, but without disturbing the origin site. Once a claims adjuster has completed the inspection, your clients can continue with repairs. Make sure to cover this with your client. While we know they want to get their project on schedule, it's important that they allow Claims to assess the damage to qualify for a payout.
Educate your client on the causes of spontaneous fires on construction sites. Suggest that they talk with their subcontractors to ensure used rags and other flammable materials are being stored safely.
There you have it! Theft, water damage and fire are the top loss trends for builders risk insurance. With these proven risk mitigation practices in your back pocket, you'll be even more equipped to counsel builders risk clients.
This is intended as a general description of certain types of insurance and services available to qualified customers. Any description of policy provisions is meant to give a broad overview of coverages and does not revise or amend a policy. Refer to the policy coverage form for a complete representation of the scope of coverage, terms, conditions, exclusions and more. The policy is the contract that specifically and fully describes your coverage. Some products may not be available in all states and may only be offered on a non-admitted basis. Product availability is subject to change.